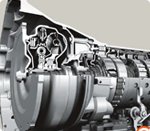 When you are shopping for a new car, one of the many decisions you will have to make is whether you want an automatic or manual transmission. The transmission is the method that the car uses to shift gears. With an automatic transmission, the car automatically decides when it is appropriate to shift gears and does it for you. With a manual transmission, you must shift the gears yourself by using the gas pedals and clutch.
Automatic transmissions are recommended for those who are learning how to drive and for motorists who drive a lot each day. An automatic transmission offers the simplest driving experience. Instead of worrying about shifting gears, it allows your focus to remain on the road and eliminates the need to multitask. Many newer automatic transmissions will actually shift gears faster than you could manually, and driving an automatic is easier when you spend a lot of time in rush hour traffic or driving through hilly roads.
Even though manual transmissions require more effort to drive, there are legions of diehard fans who adore them, and they do offer several advantages. For example, manual transmissions generally offer better gas mileage, and it offers you more manners in which you can control your car. A new car with a manual transmission will be significantly less expensive than one with an automatic transmission, and it is also less expensive to make manual transmission repairs.
It is good for you to be familiar with the differences between manual and automatic transmissions, but ultimately, the choice you make will come down to personal preference.
Eventually, both types of transmissions will require maintenance and repair. If your vehicle needs transmission repairs, you need to contact an experienced transmission repair mechanic at Toledo Discount. With more than 25 years of experience in the automotive industry, Toledo Discount prides themselves on offering high quality automotive knowledge, professional customer service, and honest business practices. Contact us today!