Auto Repair Shop in Toledo, OH
We offer competitive pricing on all of our automotive repair service and transmission rebuilds.
There is nothing that we cannot tackle.
Our shop
is a full-service automotive repair shop providing a broad range of vehicle repair, maintenance, replacement, and installation services.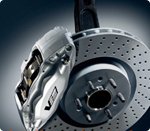 Honesty and Quality Is Our Policy
Toledo Discount Brake and Muffler has been serving the Toledo, Ohio and surrounding areas for over 25 years. We pride ourselves on our quality service, automotive knowledge, and honest business practices. Our skilled technicians are ASE certified and committed to excellent vehicle repair service. Our business is built to service the local Toledo, Ohio community while accommodating automotive service from across the Midwest. We value our ability to provide genuine attention to each customer and their individual automotive needs, large or small.
Full-Service Auto & Transmission Repair Service in Toledo
Our ASE certified technicians can perform a variety of specialized vehicle repair functions and full-service transmission rebuild. We accommodate all makes and models and offer competitive vehicle repair prices for our customers in the Toledo area. We provide top quality remanufactured transmissions and specialize in transmission repair, exhaust system repair, full-service brake work and more. Call our Toledo transmission repair shop today for service.